Norway
Language: Norwegian
Capital: Oslo
Biggest cities: Bergen, Stavanger, Throndheim
Form of Government: Constitutional Monarchy
Head of state: King Carl XVI Gustaf
Religion: Lutheran
Area: 385 186 sq.km
Population: 5 002 000 people
Currency: Norwegian Krone (NOK)
Calling code: +47
Time Zone: + 1 UTC
The Kingdom of Norway is a country with stunning nature and unique landscapes. It is also called "The country of Fjords", since these majestic narrow bays, surrounded by high rocky cliffs, are the pride of Norway. Thousands of tourists come to this northern country every year to admire its beautiful scenery: high mountains, breathtaking fjords, mountain streams and waterfalls, coves and picturesque hills. Norway is the least populated country in Europe. This is a great choice for those who want a break from the fast pace and bustle of big cities. Here you can relax, enjoy the quietness and magnificent scenery.
Fjords
While in Norway, you have to visit fjords. Two longest fjords in the world are situated here protected by UNESCO, they are Geiranger Fjord and Nerey Fjord. Qnother one – Sognefjord is the deepest and longest fjord in Norway, it reaches a depth of 1308 meters below sea level and it is stunning in its beauty. Hardanger Fjord is breathtaking, especially in spring, when fruit trees are blooming on its shores, turning the fjord into the orchard. You can explore fjords by car and on foot, but the cruise ship would make your trip the most memorable. OK Travel AB is cooperating with one of the oldest cruise company in the world – Hurtigruten. Their ships cruising along the coast of Norway and around the world. Our specialists are always happy to help you to choose a cruise to your liking.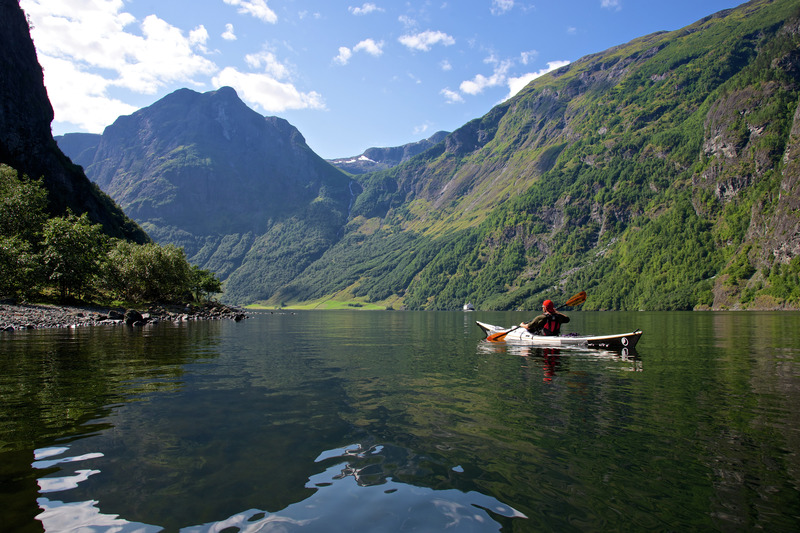 Photo: Øyvind Heen, Visitnorway.com
Activities
Norway offers various outdoor activities. Our company is ready to organize for you:
Hiking, rock climbing and glacier walks
Rafting for both beginners and experienced rafters
Diving in the northern waters – is an unforgettable experience
Fishing
Boat trips from Oslo (from 6 to 150 people)
Mountain bikes
Canoeing and kayaking
OK Travel organizes exclusive and business trips in Norway. We offer accommodation in a variety of city hotels, country hotels and cottages. In large cities we offer guided tours with English speaking guides. If necessary, we will arrange transportation by cars or boats.
Oslo
Oslo is a very popular place among tourists. Here you can find a lot of interesting attractions. Around the main street, Karl Johans Gate, main city attractions are located – Oslo Cathedral, Parliament House, National Theatre and the Royal Palace with the park.
Akerhus fortress is definitely worth to visit. It was built to protect the city. Today there are several museums and a museum of military history of Norway.
Visit amazing sculpture park Vigelandsparken, famous for its 227 sculptures or have a look on the Holmenkollen ski jump, which is the second most visited object of Norway. Among the museums there are: Edvard Munch Museum, which presents a huge collection of works by the artist, the Kon-Tiki Museum, dedicated to Thor Heyerdahl, the Norwegian Museum of Cultural History, the Museum of the Vikings, the Norwegian Maritime Museum, open-air museum "Norwegian Folk Museum", a collection of original wooden buildings. h5>
Bergen
Take a trip to Bergen. It's small and very cozy town with the famous Hanseatic wharf. Founded in 1070, the city became an important trade representative of the Hanseatic League. Colored wooden houses Bryggen keep the spirit of the time. In the past warehouses and merchant offices took place in the houses, but now here are numerous souvenir shops and cafes. Visit Museum of Bruges, which is a whole archaeological complex full of interesting historical finds. Located between the Sogne Fjord and Hardanger fjord – Bergen is rightly called the gateway to the mysterious world of the Norwegian fjords. Moreover Bergen is a good starting point for fishing in Norway. Season lasts all year round. Here you will have a perfect opportunity to go out on a yacht or fishing boat, fish and enjoy the beauty of nature and fjords. And then you can have a nice dinner from the fish you have caught.