Sweden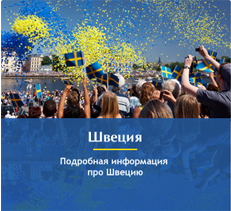 Language: Swedish
Capital: Stockholm
Biggest cities: Stockholm, Gothenburg, Malmö, Uppsala
Form of Government: Constitutional Monarchy
Head of state: King Carl XVI Gustaf
Religion: Church of Sweden (Lutheran)
Area: 449,964 sq. km
Population: 9,354,426 people
Currency: Swedish krona (SEK)
Calling code: +46
Time Zone: + 1 UTC
Stockholm and Stockholm's archipelago | Gothenburg | Malmo | Gotland | Are | Blekinge | Smaland |
Sweden is a beautiful country which is becoming more and more popular as a travel destination among tourists from all over the world.
Rich with culture and history it attracts people by its beautiful old towns and architecture. Sweden's keeping the reminiscence of Viking times in its heart, and here one can find ancient cathedrals and artifacts all over the country.
Many Royal Palaces and Castles located throughout the country are particularly noteworthy. Sweden has always been a monarchy, and even so its Royal court is quite modest, here one has unique opportunity to visit the castles of different architectural styles accompanied by our experienced guides and learn facts about modern life of the present Royal Family.
One can't miss the amazing Swedish landscapes and nature, as well as loving and caring attitude toward it by Swedes. Breathtaking views over archipelago, clean seas and lakes, green meadows, fresh air, spectacular cliffs and picturesque villages will touch your heart. Even at the biggest cities of Sweden one will always be surrounded by green parks, nice lake shores and vivid landscapes.
In Sweden there is a great variety of first-class hotels in famous Scandinavian style. Moreover, more and more designer- and boutique hotels appear here with time. Our company can also offer nice modern apartments in the Old Town. If you would like to relax and enjoy the magnificent Scandinavian nature, you may choose cottages in the countryside or nice houses in the archipelago.
It helps to remember, that in the last few years Sweden has taken a prominent position on the world's gastronomic scene. Every year talented Swedish chefs win culinary competitions such as Bocuse D'Or, and earn new Michelin Stars. At the same time, high quality of food and creative approach occur not only in well-known restaurants, but also in the street cafes, bars and restaurants. Swedish culinary tradition is remarkable for the love of fresh ingredients and careful preparation of those. Here you can find restaurants which use traditional and unusual ingredients, try them, and this will make your trip a real culinary adventure.
For those who love active leisure visiting Sweden is a must, since it offers a great variety of outdoor activities. Here you can go out for the game of golf and learn how to play it, you can rent a canoe and spend the sunny day on the lake. You can go cycling though the town or in countryside. Or you can always go fishing. At winter Sweden also offers a lot of things to do, such as skating, skiing, snowboarding and ice fishing.
Sweden is a perfect choice for those who love active holidays and fresh air, tired of constant fuss and want to have a nice vacations.
Contact us and we will make your vacation in Sweden original and memorable.