Restaurants Norway
Norway can offer its guests interesting restaurants with national cuisine, and a large number of restaurants and cafes with international cuisine and dishes from other countries. Several Michelin restaurants are located in Oslo.
The Michelin-rated restaurants in Oslo
Maaemo ***
Statholdergaarden *
Kontrast *
Galt*
Re-Naa*
Sabi Omakase*
Here you can find the descriptions of some restaurants which we recommend in Oslo and Bergen.
Restaurants in Oslo
Restaurant Gamle Raadhus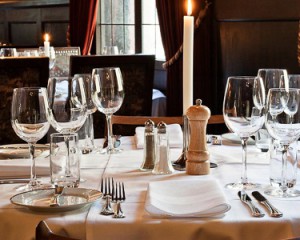 One of the oldest restaurants in Oslo, Restaurant Gamle Raadhus is situated near the Åkerhus castle in the building of the Old Town Hall, built in 17th century. This restaurant is famous for serving classical Norwegian and Scandinavian dishes, like Luftfisk – traditional dish made of dry cod. They endeavour to use the most traditional ingredients and techniques. Its amaizing antique halls with historical furnishings will make your visit here unforgetable.
The restaurant is open for lunches and dinners. There is a possibility to book separate halls for groups of 10 to 18 pers.
Group menus – from 675 NOK
Appetisers – from от 155 NOK
Main dishes – from 375 NOK
Theatercafeen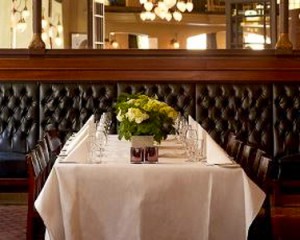 Situated in the central part of Oslo at the elegant hotel Continental, this restaurant is one of the most famous in Oslo. It's mentioned in the list of 10 most famous cafe in the world by New York Times. In the Theatercafeen you will be surrounded by luxurious interior and paintings – the portraits of famous people, who have been here. The restaurant serves international dishes.
Teatercafeen is opened Mon-Sat 11:00 – 23:00 and Sun 15:00 – 22:00. The restaurant's kitchen is the heart of the whole hotel. Menu is created by the chefs according to the season and using the best ingredients of the highest quality. The restaurant can offer a la carte menu and group menu. There is a possibility to accommodate groups up to 36 pers.
Appetizers  – from 200 NOK
Main dishes – from 345 NOK
Frognerseteren Mansion – restaurant and cafe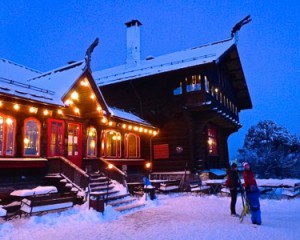 This old mansion is situated away from the center of Oslo, at the Holmenkollen hill, which provides a nice view over the town and Oslo Fjord. The oldest part of the mansion dates back to 1891, and the culinary traditions of this place came from the same time. Here you can find a restaurant, a cafe and separate dining halls for special events or business dinners for groups of 15-120 pers. Here different activities and incentives for your group can be organized, such as hiking in the forest, skiing or sleighing in winter time, aquavit or wine tastings.
Cafe Setterstua is perfect for lunches or small dinner after the walk in the surrounding forest. Here you can order cold and hot dishes, traditional meatballs or sandwiches, as well as sweets from a local bakery. The cafe is opened Mon-Sat 11:00 – 22:00.
A 3-course lunch menu at the cafe is from 345 NOK
Restaurant Finstua offers a la carte menu in fine dining hall with the view over the fjord. The restaurant uses only ingredients of norwegian produce and uses traditional cooking techniques. Restaurant is opened Mon-Fri 12:00 – 22:00, Sat 13:00 – 22:00, Sun 13:00 – 21:00. The restaurant also offers a 2 and 3 course menu for groups.
2-course group menu – 595 NOK
3-course group menu – 695 NOK
Restaurant Statholdergaarden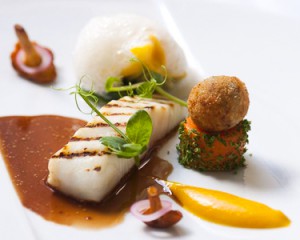 This Michelin-rated restaurant specializes on Norwegian cuisine, made from the norwegian ingredients in modern interpretation. The chef Bent Stiansen in 1993 was awarded with the Best Chef award at the Bocus D'Or. Here you will be surrounded by the luxurious classical atmosphere and exquisite design with classical moldings and portieres.
There is a possibility to accommodate groups up to 46 pers.
Every two weeks a unique 6-course menu that reflects the best norwegian ingredients and culinary traditions is created here (the cost may vary depending on the exact menu).
4-course menu – 1 175 NOK
5-course menu – 1 275 NOK
6-course menu – 1 375 NOK
Exclusively selected drinks packages can be ordered to accompany each menu.
Moreover an 11-course tasting menu is offered at the restaurant for those who would like to appreciate the culinary mastership of the chef.
11-course tasting menu – 1 750 NOK
Tasting menu drinks package – 1 450 NOK
Cafe Christiania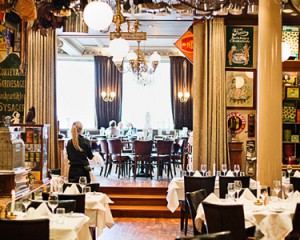 This cafe is situated in the center of Oslo in front of the parlament building – Stortinget. It presents to its customers nice atmosphere of a French cafe with a large collection of retro details and posters. Cafe offers different a la carte menus for lunch (11:00 – 16:00) and dinner, and some interesting theme menus.
Lunch menu dishes are from 200 NOK
Dinner: Appetizers from 175 NOK, Main dishes from 205 NOK
Afternoon tea – Mon–Sat 12:00-16:00, an english-style tea break with wide variety of tea, small sandwiches and sweets.
Beer Banquet – Guests are offered fixed menus of 3, 5 or 7 courses, where each course is presented with the suitable glass beer.
3-course menu with beer – 795 NOK
5-course menu with beer – 895 NOK
7-course menu with beer – 995 NOK
Louise Restaurant and Bar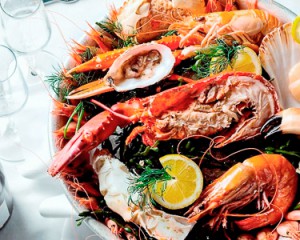 This restaurant is situated in the lively part of Oslo called Åker Brygge, right on the strand with the view over the Oslo fjord in the building of old workshop. Here you will be served refined fish dishes made from local ingredients and inspired by the dishes from all over the world. The interior of the restaurant is as noteworthy as its elegant cuisine – it collects more than 1000 interesting items on marine and fishing theme – like paintings, ship models and much more. The restaurant consists of one spacious hall and few separate rooms which are available for group bookings, business meetings and even conferences.
The restaurant is open for lunch and dinner. There is a separate menu for lunch, there are group menus, which differ according to the season and the availability of the ingredients.
Group menus – from 615 NOK
Appetizers – from 175 NOK
Main dishes – from 395 NOK
Ekebergrestauranten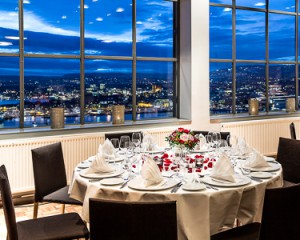 Restaurant Ekebergrestauranten was built in 1916 by local manufacturer in the exciting place on the top of the hill with the breathtaking view over the city and Oslo inner fjord. The restaurant consists of different dining rooms, and you definitely will be able to find a dining room and a table to your liking. During the summer time we would suggest to book a table at the Fine Dining Veranda with a fantastic view on the Oslofjord, the islands and boats. There is also a possibility to book a separate dining rooms and banquet halls for groups from 10 to 180 per.
The restaurant is open for lunches and dinners. There is a separate menu on the Veranda. Here they serve classical as well as modern Norwegian cuisine from fresh local ingredients.
Tasting menu  – from 750 NOK
Appetizers from –  215 NOK
Main dishes from – 385 NOK
Restaurants in Bergen
Cornelius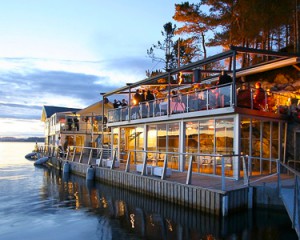 Right outside of Bergen there is one of the best seafood restaurants in Norway. It is situated right by the sea on a small island with spectacular views on the fjord, mountains, skerries and passing boats and ships. Here they offer exclusive seafood menu, prepared with most innovative culinary techniques and with lots of passion. During the summer the tables are set on the pier and large sliding doors of the restaurant are open to give you a better view of the scenery. You can also combine visit to the restaurant with a boat trip from Bergen, the restaurant offers regular departures for dinner at 18:00 and for lunch on Thursday, Friday and Saturdays at 11:30. There is also a possibility to charter a private boat, or a helicopter, since the restaurant has its own helipad.
The restaurant can offer separate venues for the group bookings, which can accommodate from 24 to 130 pers.
Lunch menus – from 495 NOK (boat trip is not included)
Dinner menus – from 945 NOK
Holmen Special Menu is from 1 145 NOK
Fish restaurant Enhorningen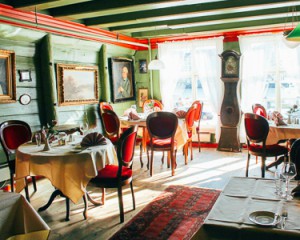 The restaurant is situated at the heart of Bergen in the middle of its medieval wharf . The restaurant kept its traditional furnishings of the Hanseatic league merchant house of 18th century. The restautrant is specialising of the fish and seafood dishes. Here you can try a Whale Carpaccio, different shellfish and many traditional fish dishes prepared from the local produce.
The restaurant is open everyday 16:00 – 23:00. It's closed on Sundays in winter time.
Group menus 675 NOK
Appetizers  – 190 NOK
Main dishes – 370 NOK
Flojen Folkrestaurant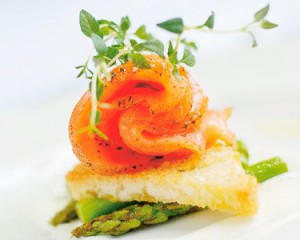 Flojen Folkrestaurant is located atop the Flojen hill in the central part of Bergen. This is a popular scenic point with the view over the wharf and the city. It provides a perfect opportunity to dine and enjoy with one of the best views in Bergen. To get here we would recommend you to use Flojbanen funicular which will get you to the top of the hill (ticket to Flojbanen costs 100 NOK per pers. ) Daytime the cafe is open and in the evening you can order from the restaurant menu. There is also a possibility of group bookings from 10 to 200 persons.
Light dishes at the cafe are from 205 NOK
Main dishes at the cafe are from 225 NOK
Restaurant appetizers  are from 195 NOK
Restaurant main dishes are from 325 NOK
Bryggen Tracteursted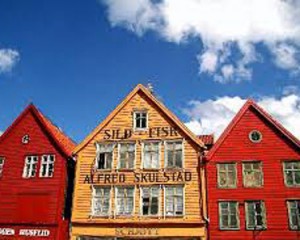 Restaurant Bryggen Tracteursted is located in the heart of Bergen at Brygge, the area of the town where once the Hanseatic league established its trading offices. Here they serve the dishes of modern Norwegian and Scandinavian cuisine, which were inspired by the history of this region and the local produce. Amoung other dishes, there is a good choice of dishes made from dried fish, the traditional ingredient which was of a great impotance in Norwegian cooking for centuries.
The restaurant also offers 4 dining halls which can be bookied for pricate occasions for groups up to 160 pers. Group menus for lunches and dinners are also  available.
Appetizers – from 112 NOK
Main dishes – from 345 NOK
Group menus:
Lunch menu – from 675 NOK
Dinner menu – from 735 NOK
Lyststedet Bellevue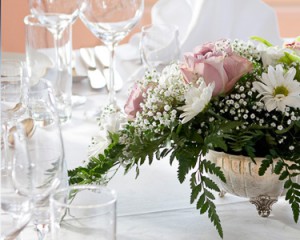 The dining hall and function room Lyststedet Bellevue is situated in the magnificent place in the mansion on the mountainside, just in 10 min from the center of Bergen. It is a perfect place to organise banquets or gala dinners for groups from 10 to 220 pers. The room is decorated in the classical style, with a good taste and attention to the details. Experienced hosts will make sure that your event is held on the highest level, whether it's a gala dinner, a business meeting with lunch, banquet or conference. The chefs offer seasonal group menus for different occasions.
Banquet menu from 975 NOK
Lunch menu from 550 NOK