Apartments. Sweden
On this page we offer you descriptions of some apartments we can book for you in Stockholm and Åre -the famous ski resort. We also help you to find apartments in Sweden according to your request. Just contact us.
Apartments in Stockholm.
Penthouse Admiral, 156 m2, 6 pers.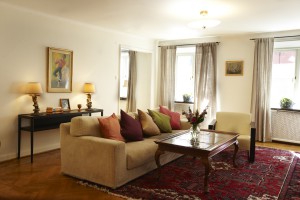 This two-floor penthouse is located at the heart of Stockholm – the Old Town. The apartment has 3 bedrooms,a big living room suitable for a big family or a company, a library, a bathroom with a shower, a kitchen and a dining room. There is also a small balcony.
Two of the bedrooms have the 180 cm beds, while the third one has 3 single beds (90 cm). In addition there is a couch bed suitable for one person. The kitchen is fully equipped. Wi-fi is provided as well.
Apartment Miranda, 120 m2, 4-5 pers.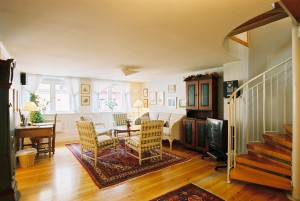 This spacious apartment is situated in the center of Stockholm – the Old Town. The apartment has a big living room and a master bedroom with the antique chimney, a  bathroom. There is also a secluded space in the living room, which can be used as an additional bedroom. On the second floor there is a studio area with two sleeping places. The kitchen is fully equipped.  In addition there is a washing machine and a WI-FI. Baby cot can be provided.
Apartments in Are.
Apartment in Åre, 88 m², 6 pers.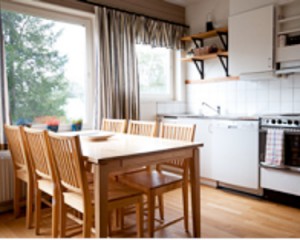 This two-floor apartment is located in 300m from Åre central square and has a view over the whole village. There are lifts in the walking distance from the apartment.
There is a living room on the ground floor, one bedroom (2 single beds), bedroom with bunkbeds and a shower| toilet. On the other floor there is a kitchen with with dining table for 8 pers., bedroom with two single beds, shower|toilet.
The apartment was recently renovated, has washing machine and a dryer, microwave, warm floors and TV.
Apartment in Åre Björnen, 80 m², 6+2 pers.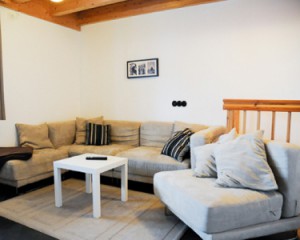 House is situated in the area of high Bevern in Åre Björnen. Behind the house there is a nice ski run. All of the apartments in the house have nice view over the mountains and nature.
In the apartment there are two bedrooms with double beds, one – with two bank beds, and one more with double bed. Kitchen is well equipped and connected to the living room. In the living room there is a big sofa, that can be used as a sleeping place for two.
Apartment has shower|toilet, warm floors, TV, DVD, CD – player, washing machine, dryer and dush washer, microwave.
Apartment in Åre, 51 m², 4 pers.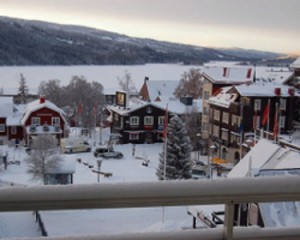 This house is situated in the upper part of Åre, near the square. World cup slope is in few meters from here. In the house there are different apartments from one room apartment to four room apartments. Good location makes them a popular choice for the families with kids.
This apartment is suitable for for people. It's well lit, and has combined kitchen and living room. There are two bedrooms in the apartment – one with double room and another with bunk bed. Apartment also has shower| toilet, sauna, balcony, TV, microwave, dryer.
Apartment in Åre, 97 m², 8 pers.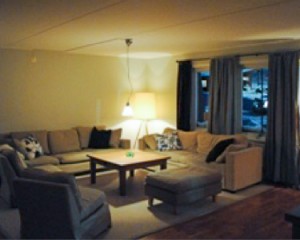 This apartment is situated in 10 minutes from the central square of Åre and in 5 min from the Fjällby slope. There are plenty of restaurants, night clubs around. You can also rent skiing equipment near by. This apartment is perfect for those who would like to be the first on the slopes in the morning.
Apartment consists of the 2 floors. There are a big living room with the view over Gästrappet, two bedrooms with two single beds each, and one bedroom with bunk beds. Kitchen is fully equipped. There is also a shower and toilet, sauna, TV, and microwave.
Apartment in Åre 48 m², 4+2 pers.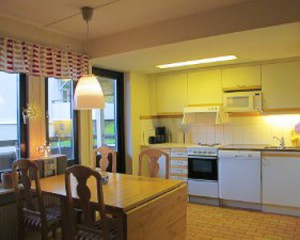 The apartment is located in the central part of Åre, near the central square. One of the World Cup slopes is right outside the house, where you can ski on. The mountain rail- lifts Kabinbanan and Bergbanan are couple of minutes away. This is a great accommodation option for those who like to be close to the lifts and slopes as well as to a shopping center.
The apartment is nicely planned, so the living room is combined withthe kitchen. The kitchen is fully equipped. One of the bedrooms has two single beds, and the other one – one bunk bed. the bathroom is equipped with a shower, a toilet and a sauna. The apartment also has a TV, Internet, a microwave oven and a dryer.
Apartment in Åre 43 m², 6 pers.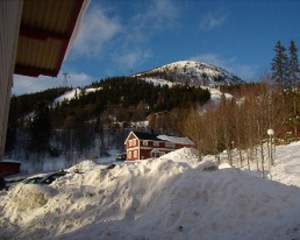 This is an apartment filled with a lot of light, it has a living room combined with a  kitchen. It is situated on the top floor of the building with windows facing south and east.
There are two bedrooms in the apartment: one is with two bunk beds, and the other one is with one bunk bed. The bathroom was recently renovated. There is a TV, a microwave and a dryer available in the apartment.