ICE Driving in Sweden
In the end of December and beginning of January Ice Driving season starts in the Northern Sweden. Our company is glad to offer you two nice destinations – Arjeplog region and Åre. Each of them offers different tracks, cars and grants you a lot of fascinating experience!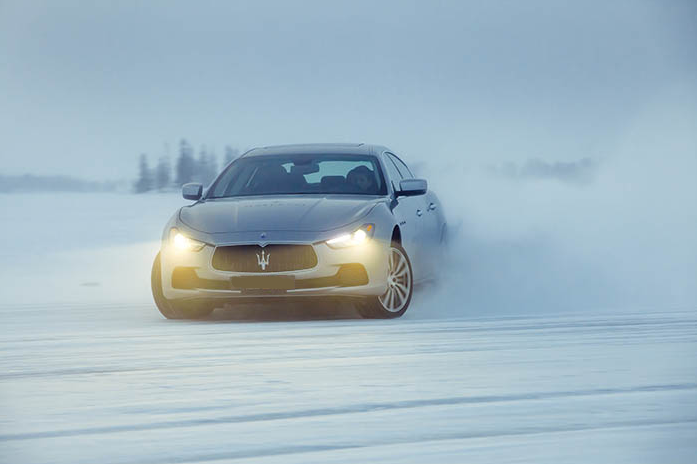 ICE Driving in Swedish Lapland
Arjeplog region offers hight class luxury ice driving experience for many years now.
Cars: Porsche Boxster, Porsche Cayman S 320HP, Alfa Romeo 4C (new), Subaru Impreza STI S, Porsche 997 GTЗ 3,8L MK II, Maserati Ghibli S Q4, Maserati Granturisimo MC Stradale, Lamborghini Gallardo, Nissan GT-R (new).
Packages:
Performance Module – 5 driving sessions of 30 min (about 150 km) with personal instruction
Intensive Module – 8 driving sessions of 30 min (about 250 km) with personal instruction
Package includes:
– personal in-car instruction
– car, fuel
– access to all the tracks
– 4 х 4 assistance when nesessary
– damage waiver insurance
– access to the on-ice club-houses (refreshments, snacks, TV, wi-fi etc)
– individual photo record
ICE Driving at ski resort Åre
Ice Driving course in Åre will suit perfectly those who would like to combine in one trip mountain skiing and ice driving! Åre is well-known ski-resort with the world class slopes. Here we offer ice driving programs from a few hours to a whole day. Individuals can join the existing groups, while groups can book different activities and book a special program designed for them.
Cars brands: Mitsubishi L200, Mitsubishi Outlander, Corolla FWD, Mitsubishi Evo, Supercharges Lexus Racing.
Example of Rally exercises:
1. Rear-wheel driving with Mitsubishi L200
2. Brake and evasive maneuvers "Moose test" with the Mitsubishi Outlander 4WD
3. Handle a 4WD car on the action path Mitsubishi Outlander
4. Rally Challenge with Corolla FWD
Additional option: Co-driving on Mitsubishi Evo or Supercharged Lexus Racing.
You will accompany a professional driver for a ride on a 300 HP car with full dubbed rally tires. Adrenaline is 100% guaranteed, when it takes you on a high speed around the ice track.